Summer days are here again! With the kids heading home and the hot days coming quickly, the dreaded increase in the energy bills aren't too far behind. We all know you would rather spend these summer days having fun with friends and family rather that worrying about high energy bills, so here are some tips to help you have an energy-efficient, but still cool, summ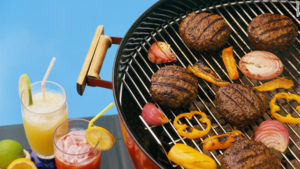 er!
Oven Off, Grill On: Grilling outside instead of using your oven or stove can help keep your kitchen cool. The kitchen is often one of the hottest rooms in the house, and since it is usually at the center of the home, it makes the air conditioner work harder than it should. Take time to enjoy the longer days outside with friends and family to use the grill to make your meals.
Filter Check: No we aren't talking about the ones on your phone, we are talking about the more important filter, your AC filter. Regularly checking your AC filter, making sure you are cleaning it, or replacing it, will help your unit run more efficiently.
Thermostat Upgrade: One of the best purchases many people say they have made in the last few years is their smart thermostat. Because these thermostats learn the homeowners habits, they are able to adjust the room temperature according to each room and when it is being used. This helps cut the wasted energy of cooling a room that isn't in use. You are also able to adjust your thermostat while away, in case you left the unit running, or the temperature too low.
Fans, Fans, Fans: using a fan to help circulate the air in the room allows your to put your thermostat at a higher temperature to cool your house. The fans help push the air around the room, helping the AC unity work without setting the temperature at 72 or 73.
Unplug: Even if it's a short weekend getaway, take the time to unplug all of those appliances and computers while you are away. If no one is using them, they are still sucking energy which will increase your electric bill. Take the time to just unplug it all before you leave. You will be happy you did!
Shades, Blinds, Drapes: If you have them, use them! On the hottest days of summer, as those rays come into the house, it is heating things up more than you realize. Use the blings, drapes, shades or anything else you have to keep those rays out and keep the cool in!
Check Your AC Unit: If your AC unit is reaching that 10 year mark, it is usually costing more to repair, and working overtime to cool your home, running your energy bill way up! Look into buying a new high-efficient unit that will end up saving you money in the long run! Many of these newer units actually have an automatic shut off when its starting to get backed up, allowing you to catch any complications that may arise before they actually happen!