Sometimes in the chaos of getting ready for a move and trying to make sure all of your I's are dotted and T's are crossed, we forget about the furriest members of our family. Moving with pets can often be harder on our animals than many of us realize. Sometimes, it's good to have a checklist of things that we need to remember when it comes to our furry family.Here are some helpful tips to have when moving with animals.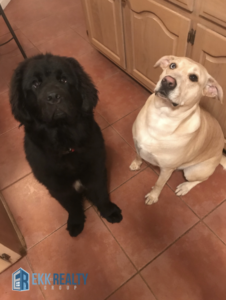 Keep your pets safe. Sometimes while packing up the house, or loading up the trucks, a pet can easily get out a door that was left open. Remembering to have your pets ID tag on them with their name, your name, and your phone number will save you a good deal of worrying if someone will know how to find you. A surefire way of making sure someone can find you if you lose your pet is to make sure they are microchipped. All it takes is a quick scan for that chip and all of your information comes up!

If you are moving locally, you already know all of the regulations that come with having a pet in that area, however if you are leaving the state, or moving to a different town, it's important to make yourself aware of any state or local ordinances regarding pets. Be sure to have their health certificates are up-to-date and find out what new requirements you may have, and make sure that your rabies tags are current. If you have an exotic animal, it's important that you purchase a permit for the animal before you get to your new home. You can always ask a veterinarian, or call a veterinarians office where you're moving to find out the application process.
The best way to help your animal during a move is to keep them away from the action. There are numerous places that you can take your animal to do a day-camp while you're trying to pack up those trucks. Often times the boxes, the in and out of the house, rooms that they are used to being full now being empty can change up in animals routine and cause a great deal of anxiety for them.
Many pets will have trouble acclimating at first to their new surroundings. It can be important to set up as much of the house as you can before you introduce your animal to their new home. Even if it's just a single room, or their own area that you have set out for them, make sure that it is filled with things that they recognize, scents that they know or their favorite toys that can help give them some comfort.
Make sure you update their info. If your pet is micro chipped, make sure that you call or go online to update the address and contact information for that animal. It's better to make sure that you do this ahead of time in case anything happens that way they're not looking for you at your old home.
If you are moving to a new area, make sure you have a talk with your veterinarian, you will want to have all of your records, any medications that they may need, and may be grabbing some advanced medications in case you don't set up your animal with a new veterinarian by the time they need their new prescription. There are a finite amount of veterinary schools, so it's likely if you're moving to a new area, especially if it's within the same region, that your veterinarian can recommend a new vet for your pet.
If you are moving to a place within the same town, or at least a short driving distance away, it could be beneficial for you to take your dog, if that's the animal that you have, to your new neighborhood and start taking them on walks there every now and then. Let them get a feel for the new smells, the new streets, and what their new home and area will look like
Make sure you keep them on the same treat, feeding, walking, and play time schedule. We know it's bound to change now and then, you have a lot going on, but let's look at it from their perspective, this is their territory, their home, their space, and now it's all being packed up and things seem different and they can't communicate to you their worry. At least having them on some sort of a routine that they are used to will help them realize that not everything is changing and that you are there for them.
All in all, it's important to look at things from our pets point of view. It's a difficult thing for them to no longer know the layout of the place that they've called home. Often times your animal can probably navigate their way around the house in the dark, so helping them adjust, especially dogs as you move into a new area, with new smells, new dogs, and new people, it's so important to make sure you are socializing them, and that they are sticking to as much of a routine as possible.
Creating that routine early before the move, and maintaining it through the move and setting up of your new home, can help your animal acclimate much faster.